The ultimate new material.
XPO is stronger, greener, lighter, and offers significant economic advantages when compared to traditional PVC materials.
A premium industrial-grade material, XPO is a polypropylene-based fabric with a special coating formula. As the result of over 7 years of research and development, XPO offers significant advantages over existing alternatives – whether used as a tarp or in other applications.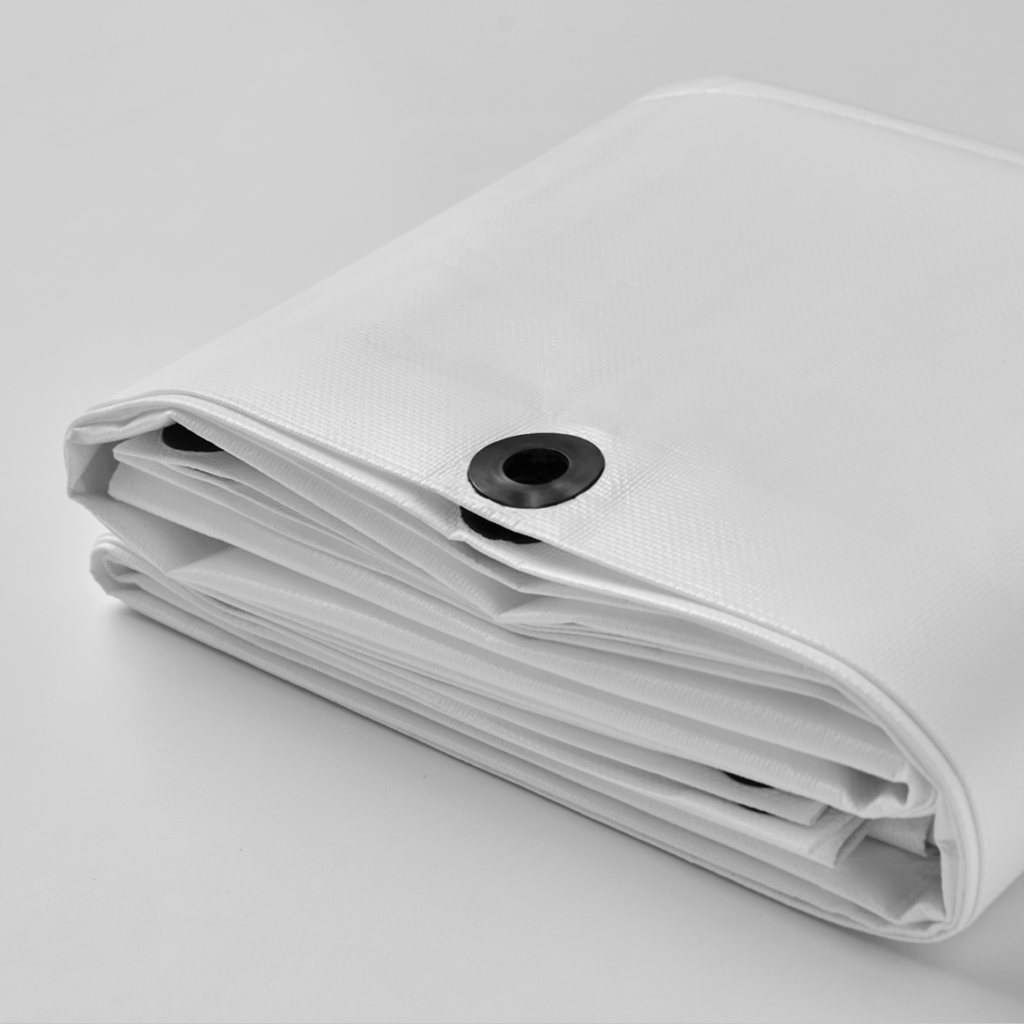 XPO - the superior alternative.
XPO boasts a premium set of features and benefits as standard, and has been tested extensively by a range of independent bodies and specific use-case studies, making XPO a material you can trust in a variety of scenarios.  XPO can be supplied in a range of weights and specifications, either as rolls of material or as pre-fabricated products or components made to specification – ready to use.
Supering eyelets – made from the same strong material as XPO and welded directly onto the fabric.
XPO is 100% recyclable, made with no toxic materials or restricted substances.
Available in various weights, or made custom to order.
Food-safe.
Free from chloride, dioxin, plasticizer and lead.
REACH compliant.
UV resistant with a 5 year guarantee.
Can be made fire retardant under EN13501-1.
How does it compare to PVC?
When compared with traditional PVC materials, XPO offers greater lay-flat characteristics and with a special coating it also resists flex cracking – retaining it's appearance for far longer. Not to mention excellent weather resistance.
Gram-for-gram, XPO is much stronger than traditional industrial-grade materials. This light weight makes XPO much easier to handle and suitable for a wide range of applications – it's used in different countries to build shelters, as a construction material, food covers, and as a ready-made tarp.
XPO is also weldable – it can be fused using hot air, hot wedge, ultrasonic, or high-frequency welding on impulse settings making it flexible and suitable for different use case scenarios.
Completely free of Chloride, Dioxin, and plasticizer XPO meets strict environmental standards and can help to save on disposal costs in some countries.
FITI tested for food container usage.
Available in 4 different weights – or made custom to order.
We can provide XPO as rolls of material or as finished products, made to specification.
REACH compliant meeting EU standards – containing no restricted substances.
5 year UV guarantee.
Fire retardant coating can be added to the material – giving added protection to a B-class rating under European Standard EN13501-1